A while ago I got a Proliphix IP Thermostat for my home. It costs more than your average thermostat, but in my opinion it is well worth the extra money. Disregarding the fact that it has proven invaluable when I can't remember if I turned the thermostat off before leaving the house, there are other very significant uses for an IP thermostat. One such use is to get a good idea of my energy use and the efficiency of my home by graphing the temperature and overlaying colors where the heating or cooling is running. In practice, the graphs end up looking quite nice as well.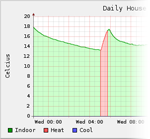 Take a look at the graph. The main green area tracks the inside air temperature of the house as measured by the thermostat. When the heat is on, the green area is replaced with red. When the cooling system is on, you get a blue area. This gives you a visual idea of the efficiency of your house as well as how much energy you are consuming. After looking at these graphs for some time, you begin to see how costly that last one degree of movement is when you are heating or cooling your house against the external environment. If the temperature differential is great enough, it can take twice the energy to bring the house up just one degree.

You might be wondering how this works. I use RRDTool to record temperature and thermostat settings read from a Proliphix N10e IP Thermostat once per minute. RRDTool also generates graphs from the data in the database and I've coded it up to play nicely with the Proliphix line of thermostats. I will eventually make my code available through this website.

My next thought was, "what about outdoor temperature?". That is why a thermostat is necessary in the first place, so wouldn't it be interesting to see the temperature from outside as well on this graph? Unfortunately, however, N10e doesn't support an external temperature sensor. I suppose I could get a temperature sensor and hook it onto a serial port on my computer but it's really so much better when everything is all in one little unit and you query all data from one device. So I bought the Proliphix N20e instead. This version accepts two external temperature sensors as well as the internal one allowing you to average the temperature between several rooms to get a better idea of the internal temperature. "Nonsense!" I thought. I purchased an outdoor thermometer and am preparing to hook it up this weekend. If all goes well, I should have a light grey graph of the external temperature added to the graph above. The hope is that you'll be able to get an idea of the temperature differential at a glance. With a large differential, it might make sense to roll off the temperature target a little to save allot of energy.

We'll see how it goes. I'll post a newer version of the graph after I make the change and give it some time to fill in.