I took my iPhone on a trip to Chile and Argentina. As it is a quad-band (world) phone, I was interested to see how it worked on networks outside the United States. In the US, the iPhone always says "AT&T" in the upper left hand corner of the screen as that is your only network option. But with multiple foreign networks to choose from, how was the iPhone going to handle this?
As it turns out, you get an additional option on the Settings screen that allows you to choose a carrier when outside the US.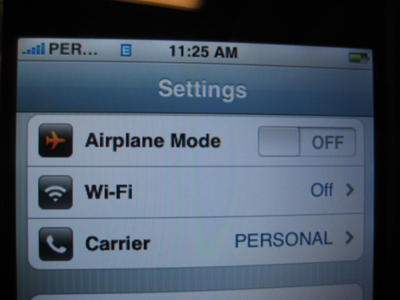 Just about everything worked including the EDGE network for Internet access, SMS, Visual Voicemail and with International Assist on (the default), I could dial my contacts in the US just by picking a contact without having to edit the number. The one drawback was that I never got any Caller ID on incoming calls. I would just see "Blocked" for all incoming calls. All in all though, it was a fairly small price to pay for my iPhone to work in Argentina. It was a good bet that mine was the only iPhone in Cordoba at the time!

While network selection is "Automatic" by default, you can pick the network you want to use by hand. Below is a video of this in action. I happened to be in Cordoba, Argentina at the time so my options were movistar, Argentina Telecom Personal and CTI Movil Argentina. It takes a bit of time for the network search to finish but eventually you get a list of carriers that you can use. In "Automatic" mode, the carriers that AT&T has contracts with (CTI Movil, Unifon and Telecom Personal in the case of Argentina) will be automatically selected. If you manually pick one and go out of that network's range or pick an unsupported carrier, calls predictably will fail. Obviously the best choice was to leave the phone in automatic select mode. The phone also worked well in Santiago, Chile, although of course on other networks.



On a side note, I was told that the street price of my iPhone was in the neighborhood of $2,500 given the price disparity of other smartphones (Treo 700) that you can purchase both in the US and in Argentina! Electronics are heavily taxed in Argentina.