---
This site is no longer updated!
---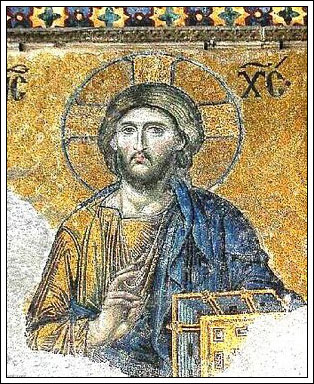 12 Byzantine Rulers
The History of The Byzantine Empire
by Lars Brownworth

This history lecture podcast covers the little known Byzantine Empire through the study of twelve of its greatest rulers. Mr. Lars Brownworth presents this series for free through this website and the podcast section of the iTunes store.

Mr. Brownworth, author of Lost to the West: The Forgotten Byzantine Empire That Rescued Western Civilization, taught History at The Stony Brook School on Long Island, New York. His passion for Byzantine history has taken him on travels from the furthest reaches of the Byzantine Empire right into Constantinople, (present day Istanbul) the very heart of Byzantium. He has traveled and studied Byzantine history extensively and produced this lecture series giving us this concise overview.

To download these lectures, right click the file and select "Save as..." and save the file on your computer. Mac users should hold down the control key when clicking to get the "Save as..." option.


---
UPDATE July 24, 2008

This site is no longer updated!
UPDATE December 30, 2007
Lars Brownworth is currently gathering research in Constantinople. Some pictures including the Hagia Sofia, Justinian's Cisterns and the Theodosian land wall are available.

UPDATE September 26, 2007
Lars Brownworth has signed with Crown Publishing, a division of Random House, and is currently working on a book about the Byzantine Empire due out in 2009.

---
Complete Series
The content for this lecture is complete. Additionally, however, a reading list and an interview will also be released. Lars Brownworth will be doing a new podcasting project. To be notified when the project announcement goes out, please add your email address to the announcement list form at the bottom of this page.

Questions and Answers:

Mike asks:
I just wanted to say thanks for the site. I truly enjoy listening to the lectures. I was wondering if you could post a list of references so that I could do some independent learning on the subject.

Mr. Brownworth responds:
Unfortunately good books on Byzantine history are few and far between. There are several good general histories: History of the Byzantine Empire Vol 1-2 by Alexander Vasiliev; History of the Byzantine State by Georgije Ostrogorski; The massive A History of the Byzantine State and Society (tends to be a bit dry, but very informative- focuses on economic issues); but by far my favorite- the most accessible, and interesting account is John Julius Norwich's 3 volume Byzantium. Its also published as an abridged single volume. The single volume is good, but the 3 volumes are definately worth it! You are more likely to get a good book on certain periods of Byzantine history- For the 1st Crusade time period, for example, check out Steven Runciman's History of the First Crusade - my favorite author.

George writes:
Does Edward Gibbon's bias against Byzantine history make The Decline and Fall of the Roman Empire an inaccurate source on the subject relative to other sources? What sorts of pit falls should one be on the look out for when reading Gibbon?

Mr. Brownworth responds:
Gibbon's Decline and Fall has often been heralded as the "most significant history ever written in the English language", and there is an elegance and scope to him that is immensely rewarding. It is also monumental - the unabridged version is well over 3,000 pages - historians simply don't write on this scale any more. As a scholar, Gibbon is above reproach. He wrote before there was a science of archaeology, and yet his careful attention to detail and use of primary sources wherever available remain remarkably accurate.

For all his attentiveness, however, Gibbon was very much a child of the Enlightenment - and as such took a rather dim view of religion. He viewed Christianity in particular as a dark, corrupting religion, the bitter enemy of progress and free-thinking, and a major contributor to the fall of the Western Empire. This inevitably colored his view of Byzantine history, and led him to dismiss the empire as a "degenerate race of princes" mired in constant intrigue and corruption. This is not to say, however, that Gibbon is not a worthwhile source. Once you are aware of this bias (it is most explicitly apparent in volume 2 and 3 which deal with the Byzantines), the work becomes much more rewarding. As you read, keep in mind that his general position on Rome and Byzantium was that the empire reached its peak during the reign of the Antonines, and then declined - a rather simplistic position that can be seriously challenged in any number of areas. Other more modern works are better balanced - certainly Runciman or Norwich are more accessible, but Gibbon remains a colossus. Vast, expensive, time consuming, and needing to be carefully considered - but indisputably one of the worlds great works.


---
Books
Lars Brownworth has written a book on Byzantine History called Lost to the West: The Forgotten Byzantine Empire That Rescued Western Civilization. Other books Mr. Brownworth reccomends include A Short History of Byzantium by John Julius Norwich, Georgije Ostrogorski's History of the Byzantine State and Timothy Gregory's A History of Byzantium. But the grandfather of them all is Edward Gibbon's epic The Decline and Fall of the Roman Empire: Volumes 1-3 and Volumes 4-6. You may also find books on particular parts of Byzantine History interesting such as Steven Runciman's The Fall of Constantinople 1453, Jonathan Harris' Byzantium And the Crusades or Donald M. Nicol's The Immortal Emperor: The Life and Legend of Constantine Palaiologos, Last Emperor of the Romans. There are also primary sources such as Procopius' History of the Wars, Books I and II: The Persian War, History of the Wars, Books III and IV: The Vandalic War and Procopius: On Buildings but it is his scandalous The Secret History for which he is most famous. Also see Anna Comnena's The Alexiad which details the Byzantine reaction to the Crusaders.



---
Publicity
If you enjoy these lectures, please mention this project on your website or blog. Feel free to use the following image and URL:


http://www.anders.com/lectures/lars_brownworth/12_byzantine_rulers/

Please vote and submit reviews at the following sites so others can find this resource as well:


http://www.anders.com/lectures/lars_brownworth/12_byzantine_rulers/rss.xml


or search for us in the iTunes Podcast Directory. Note: The Podcast version of these lectures contain the main lecture but not the optional commentaries. This web page will always include all of the available material.

Media Exposure
---
Email Notification
If you would like an email notification when Lars Brownworth is involved with another project, enter your email address in the field below. We collect email addresses only to update you on this project and any new projects Lars Brownworth is involved in. You will not get spam by entering your address here and your email will be deleted immediatly upon your request. (use the email address at the bottom right of this page for removal requests) Having been on the recieving end of spam for far too long, we take the topic of your email privacy very seriously.


---
Background Information
Mr. Lars Brownworth is a writer currently residing in North Carolina and working on a book on Byzantine history for Crown Publishing due out in 2009. He sarted the Top 50 podcast "12 Byzantine Rulers" while teaching history at The Stony Brook School, a private boarding High School on Long Island's North Shore. The podcast was released on iTunes the day Apple debuted podcast support and was cited on their 1 year Anniversary as a project that helped pave the way for podcasting to became mainstream. It was later featured in a New York Times article by Sammuel Freedman as well as other appearances in Wired magazine and National Public Radio. Mr. Brownworth is working on a new podcasting project that has yet to be announced. He can be reached through Anders Brownworth by sending an email to the address at the bottom-right of this page.

Lars Brownworth's Book on Byzantium
---
Contributors:
Howard Moskowitz
Gustavo Fonseca
Alex Cornwall
Ernest Lin
Chris Muller
Brian Wooton
MD Lahey
Peter M Howell
Pedro Ceron
Stephen Patrick
Rena Down
Tom Tedeschi
David Looney
Louis Chios
Samuel Ryskind
William Niedenthal
Jaime Ryskind
Molly Crocker
Francis Espiritu
---
Once to every man and nation,
comes the moment to decide,
In the strife of truth with falsehood,
for the good or evil side;
Some great cause,
some great decision,
offering each the bloom or blight,
And the choice goes by forever,
'twixt that darkness and that light.

Once to Every Man and Nation.mp3
~ James R. Lowell - 1845
"In our sleep, pain that cannot forget falls drop by drop upon the heart and in our despair, against our will comes wisdom through the awful grace of God."
~ Aeschylus
"Some men see things as they are and ask 'Why?'. I dream of things things that never were and ask 'Why not?'"
~ RFK
"In dreams begin responsibilities."
~ U2 / W.B. Yeats
"... we do these things not because they are easy, but because they are hard!"
~ JFK - on sending man to the moon
---