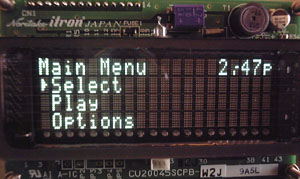 Note: This project is no longer being activly developed.
route66 is an open-source home / car mp3 player with a database backend built with a linux machine running a mysql database, and a perl script. it drives a 20 character by 4 line serial display module (lcd or vfd) from Matrix Orbital that can be mounted just about anywhere. there are four buttons used to navigate the menus.
download the source code and take a look. latest version (0.5.3) out august 27, 2000. the readme.txt is a howto for the project.
the updates page covers the latest information on the project. an archive of the mailing list exists as well.
other people's pages on route66
people with playerlib.so problems should try other versions of playerlib.so from earlier versions of route66 or recompile splay.
here are some pictures of the display running the software. the rest of the hardware is a 1u rack mount computer ( pictured here opened and unopened ) running linux. note: you don't have to use this hardware. just about any old computer will do.
i was working on a set top box version of route66 for the home. take a look at my experiences with the gct allwell 1030n set top box.
Matthew writes: I found a decent (but a bit pricy) automotive PSU at www.opussolutions.com. 150W for $180-190 with some neat features, and a 90W (not listed on website) for $150.