[ home ]
[ anders ]
[ resume ]
[ choppers ]
[ projects ]
[ netatalk ]
[ route66 ]
[ javascript ]
[ webgallery ]
[ mockMarket ]
[ merits ]
[ dailyBulletin ]
[ panacea ]
[ words ]
[ pictures ]
[ movies ]
[ contact ]
merits is a "credit" tracking system for boarding schools that allows students to login and see what merits have been awarded them and lets them purchase passes out of required events with those merits. examples passes: skip a required dinner or get out of cleaning your dorm room. it looks somthing like this: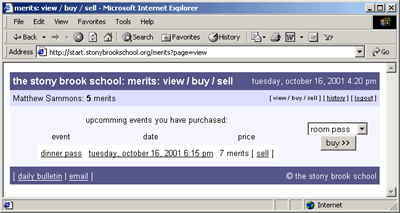 download
feedback: email the address at the bottom of this page

why did i make this and who is it for? i created the merits system for [ the stony brook school ] because it seemed like a good idea. bording students at the school get an account on the merits system so they can see what merits they have been awarded and purchase passes for events that they would otherwize be required to attend. the system makes it so students can't purchase events for which they don't have enough merits, and they can't buy or sell an event after the closeing date of that event. (before an event closes, students are allowed to buy and sell with a net loss of 0) for events like meals where a mass exodus of students would impact the ammount of food prepared, the price for the event will go up after a threshold of purchases has been reached. (for instance, at stony brook, after 6 students have purchased a pass out of dinner, the next student to purchase a pass for that meal will be charged a higher price)

the merits system is one of several projects that i have built for the stony brook school. other projects of intrest to schools: the [ daily bulletin ] ( a daily web-based newspaper that allows anyone who has an account to submit stories to a number of editions ) and the [ mockMarket ] system. ( a web-based brokerage simulator that allows users to buy and sell stocks with fictitious money and track their portfolio at real market prices. )

the merits system project is open-source software. you are invited to use it and change it to suit your needs as long as you give back to the project by making your changes available under the same guidelines.